Win a John Deere 6120M tractor with front loader or cash alternative of €100,000 or become the proud owner of a racehorse for a year! Tickets are €50 each. Grand Draw on Saturday, 08th October 2022 in Foxs Pub on the Hill of Skryne. Are you ready to rev up the horsepower?
About Us
Skryne GFC have been at the heart of Meath football since 1887 and have been County Senior champions on 13 occasions. This proud tradition continues to grow as our club sees victories with our ladies team winning the Meath Junior Football Championship in 2021 and our juvenile teams contesting finals on a regular basis. To keep this heritage alive, it has taken countless volunteer hours off the pitch as well as on. During the COVID19 pandemic, the club became the beating heart of the community with Gaelic football becoming a crucial outlet to keep the minds and bodies of our community strong. Emerging from this difficult time, it has become clear that we need to invest more into this valuable community resource. We, the members of Skryne GFC, have a clear vision:
To build a club that all in our community can be proud to call their own
We have done a lot over the past number of years to make this a reality. Our grounds committee have cared for our main playing pitch with impressive dedication. Our pitch has been complimented as second only to Pairc Tailteann and many county teams request Skryne as their preferred location to train. Our two Astro pitches have become vital to winter training in the club and the building of our gym brought with it huge opportunities for further development. But there is more to be done to achieve our vision.
The hard-working women and men of our executive committee have identified 4 key areas of investment:
Developing a safe walking route around the main pitch complete with lighting. During the pandemic the club grounds became a popular walking route for many in our community. We want to create a safe walking surface where all users, young, old, able-bodied and those with disabilities, can get their daily exercise at any time of the day or evening. Added to this, we intend building a children's play area to cater for the younger children who often find themselves at the pitch with parents and siblings. We believe our club should be somewhere for the whole community to enjoy, not just our players.
Everyone knows that victories are won on the training field and in Skryne, this is something we have been sorely lacking. We wish to develop our training field to a standard that our players of all ages deserve. Fencing, netting behind goals, levelling rough ground for use and a safe path to the training pitch are all on the agenda.
We are lucky in Skryne to have excellent coaches, some of whom are experts in the area of player development. But these great volunteers need the right tools to get the job done and key to player development are fitness and agility. We aim to develop our gym area to a standard that caters for all ages and can be used safely by our teams all year round.
We want the visitors to our club to feel they are in a top-class facility and that's why we need to upgrade the entrance area, car parking facilities, PA equipment, refreshment facilities, scoreboard and spectator area. Making the spectator experience a positive one is key to our ambitions.
To realise our vision we need to raise funds; that's why we have created the HORSEPOWER DRAW!
What is the Horsepower Draw?
The horsepower draw is your chance to win big!
First Prize
Your ticket gives you the chance to win a John Deere 6120M with a 603R front loader worth a massive €120,000. Our ambassador, the All Ireland winner Trevor Giles, loves a bit of mowing but this might be too much for the front lawn! If you're into tedding, baling and feeding, then this machine will make life a lot easier with its 4.7 ton lifting capability as this short-wheelbase tractor is perfect for front loader work. The 6120M has an updated cab that blends the best of ergonomic design with practical operation using the CommandARM console. You won't want to drive anything else! Don't worry if you don't have a bit of land – you can of course take a cash prize of €100,000 instead.
Click the video below to get a tour of our John Deere 6120M tractor from Andrew and Eoin from Meath Farm Machinery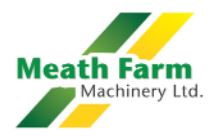 Second Prize
If machines aren't your thing, then maybe animals are. Our ambassador, Irish Grand National winner Nina Carberry, knows that the most majestic animal of them all is the noble horse and our second prize is a chance to win a proper racehorse! That's right, for one year you will be the proud owner of a working racehorse trained by Gavin Cromwell. You get to be the owner with no purchase price on the horse, no training fees, and no stable fees. And best of all, if the horse wins the prize money goes to you, the owner! Gavin has a habit of training winning horses.
His boutique stable has only a handful of horses under his trademark attentive care and his training method pays back in results. He has trained winners in all the great tracks with a 100k win in the Irish Cambridgeshire at the Curragh with Sretaw, back to back grade 1 hurdles with Jer's Girl, the Welsh Grand National in 2018 with Raz De Maree and of course, his biggest national hunt success when Espoir D'Allen romped to victory in the Cheltenham Champion Hurdle. You can go racing, wear your finest in the parade ring with your horse and all going well you might find yourself in the winners enclosure popping champagne!
Similar to our top prize, if horse racing doesn't tickle your fancy, you can opt instead for a €10,000 cash alternative.
Third Prize
A break away to Ireland's most popular holiday destination, Center Parcs in Longford Forest. After months of isolation under covid, this holiday to the value of €3,000 guarantees a breakaway full of fun filled activities for the creative crafter or the adrenaline junkie in a park set among 400 acres of trees, wildlife and natural landscapes.
The park boasts luxury accommodation. A real home from home with the forest as your backdrop. It's the perfect family retreat.
As well as a number of different restaurants for you to choose from, you'll find numerous retail stores offering everything your family could need, from grocery essentials to fashion items.
Then, to top it all off, at the heart of the resort is a Subtropical Swimming Paradise, the largest water park of its kind in Ireland.
Bonus Draw
To keep the excitement building, we will be running bonus draws each month from May to September where a lucky person will win bonus prizes – buy your ticket early to increase your winning chances.
And if that wasn't enough, by buying a ticket you are helping more than just our club. We are partnering with our ambassadors Trevor Giles and Nina Carberry to help us promote the endeavour. Both local sports superstars believe in the power of sport to unite communities and they have nominated three charities that will also benefit from this draw.
A minimum of €10,000 will go to Jigsaw Mental Health Services, The Irish Injured Jockeys Fund and The LauraLynn Children's Hospice Foundation.
Draw Details
A minimum of 7,000 tickets will be sold and the grand draw will take place on Saturday, 08th of October 2022. To be in with a chance to win, buy your ticket now from the Skryne GFC website or from one of our local ticket sellers. For more details, contact Skryne GFC on skrynehorsepowerdraw@gmail.com or view our Terms & Conditions here.