Code of Behaviour (Underage)
Skryne GFC has adopted the Code of Behaviour (Underage), an agreed and joint policy document published by the Gaelic Athletic Association, Ladies Gaelic Football Association, the Camogie Association, GAA Handball Ireland and the Rounders Council of Ireland.
The Code of Behaviour (Underage) addresses the minimum levels of behaviour, practice and conduct required from our Young Players, Coaches, Officials, Managers, Supporters, Parents/Guardians and Clubs.
All Club members and parents of child members must agree to be bound by the principles set out in the Code when participating, playing or attending our Gaelic Games.
Click here to view the Code of Behaviour (Underage).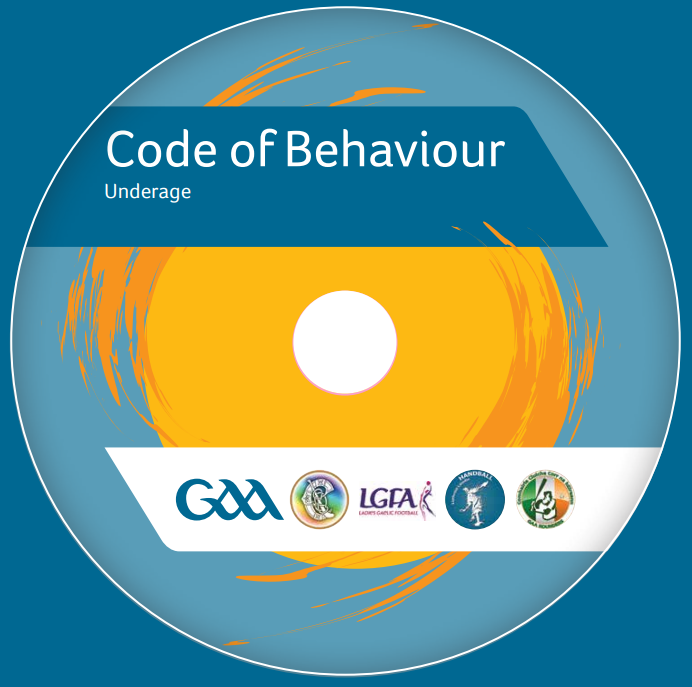 Children's Officer
 The appointment of a Children's Officer at Club level is a mandatory requirement.
The Children's Officer shall act as the link between our young players and the adults within the Club.
The Children's Officer will also ensure the implementation and promotion of the relevant Child Welfare and Protection Codes and Guidelines for good practice in the Club. Ensuring that young players can participate, enjoy and benefit from our Gaelic Games in safe and enjoyable surroundings.
The Children's Officers in our Club are:
Ciara Gallagher (GAA)
Susan Shorten (GAA)
Maria Flaherty (LGFA)
Nichola Moss (LGFA)
The Designated Liaison Person (DLP) is
Pauline McManus (Ladies Chairperson)
Statutory Agencies Contact Details
Tusla Child & Family Agency: https://www.tusla.ie/get-in-touch/
Tusla Child and Family Agency,
Louth/Meath,
Enterprise Centre,
Trim Road,
Navan,
Co. Meath
Telephone: 046-9098500
An Garda Síochána: https://www.garda.ie/en/Contact-Us/
Dunshaughlin, Co. Meath
Telephone: 01-8258600
Navan, Co. Meath
Telephone: 046-9079930
E-Vetting
Any person who carries out a role of responsibility such as coaching, managing, training or assisting coaches with underage teams or indeed adult teams that contain any player under 18 years of age must be vetted. It also applies to individuals organising underage activities or refereeing underage games.
More information on the vetting process and how to apply using the E-Vetting form can be found here
Safeguarding
The Gaelic Games Associations have developed three levels of child safeguarding training.  Whatever a person's role in our Club they are, where applicable, required to attend the relevant training as provided.
Safeguarding 1 – The Child Protection in Sport Awareness workshop is for coaches and others who work with children.
Safeguarding 2 – is designed for Club Children's Officers.
Safeguarding 3 – is designed for the Designated Liaison Person.
Coaches and others who work with children (under age 18)
All coaches and others that work with children must fulfil the following requirements:
Be Garda vetted.
Attend relevant child safeguarding training.
Possess a coaching qualification relevant to their role as recognised by the Club.
Child Safeguarding Statement and Risk Assessment
Each year our Club is obliged to carry out a risk assessment and thereafter put on display an agreed Child Safeguarding Statement. Much of this work shall be overseen or directed by the relevant Children's Officer in cooperation with the Club Executive.
A link to the Club's Child Safeguarding Statement is available here and is also displayed in the club house.
Anti-Bullying Policy Statement
The GAA aims to create a supportive environment where any form of bullying is unacceptable. We adopt a whole organisational approach to addressing bullying and are committed to implementing structures and relevant training to deal with allegations of bullying. Incidents of bullying are regarded as serious breaches of our Code of Best Practice in Youth Sport – Our Games Our Code. We are committed to achieving an ethos of respect so as to maximise the potential of all our members when playing or participating in our Gaelic Games.
DEFINITION
Bullying is defined as repeated aggression, be it verbal, psychological or physical, conducted by an individual or group against others.
THE GAA SEEKS TO ENSURE THAT:
Incidents of bullying behaviour are addressed appropriately
All persons in membership of the Association or attending our games or activities are aware that bullying behaviour is unacceptable in the GAA.
DEALING WITH BULLYING
The Code of Behaviour when working with underage players provides good practice guidance in relation to the prevention of bullying.
If you are aware of or have a concern that bullying behaviour towards a child under 18 years of age is happening within your Club you should report the matter to your Club Children's Officer.
We recognise that incidents of bullying are a breach of the Code of Behaviour and of our Give Respect – Get Respect initiative and all such incidents will be dealt with accordingly.
Online Training
A club must receive parental consent for each child to participate in any online coaching session. Guidance for Online Coaching of Children and a Parental Consent Form can be found here