LGFA Under 15 Divison 2 League Final
Skryne 4-13      St. Pat's Stamullen 2-02
On a beautiful evening on the last day of May, Skryne Under 15 girls produced a wonderful performance to win the Division 2 League Final in Fr. McManus Park.    The team having overcome table toppers Clonard in an away semi-final earned their place in the final against St. Pat's Stamullen.  St. Pat's had scored seven goals to win each of their two previous games, so the Skryne girls knew that their best performance of the season would be required.  With that in mind each of these Skryne warriors really stood up to the task and defended like their lives depended on it while at the other end of the pitch they tormented the St Pats defence with their fast attacking play and clinical finishing.
Throughout the game the sizeable Skryne support were treated to a great exhibition of the 'Skryne Way' of playing football as the team demonstrated excellent teamwork and movement of the ball and a ferocious appetite for tackling and blocking.    After a thrilling victory Isabella Meharg lifted the cup on behalf of her teammates and the team celebrated in the RST with their families and friends until the late evening.  This squad trained throughout the winter right up until Christmas and commenced preparation for the league on January 8th 2023.  Their hard work and that of their coaches Mick O'Dowd, Kenny Pentony, Ross Phillips, Nicola O'Reilly, Aileen O'Connor and Jenny O'Dowd was duly rewarded with this memorable final performance of the season.
Thanks also to Maria Lynch, Bronagh Sheridan and Dervla Duffy for helping out throughout the last year.
Back Row: Left to Right; Ava Beirne, Eliza Donnelly, Harriet Hayes, Megan O'Brien, Jay Jay Lynch, Lucy Pentony, Rosin Reeves, Robyn Fay, Isabella Merharg, Ellen Hogan, Hannah Swan
Front Row: Left to Right; Lily Fay, Emily Phillips, Grace McCarthy, Aleida Naughton, Sarah Mangan, Ava Smyth, Kacey Lou Carberry, Isobel Fay, Katie O'Connor, Rachel O'Dowd, Anna Fay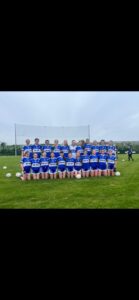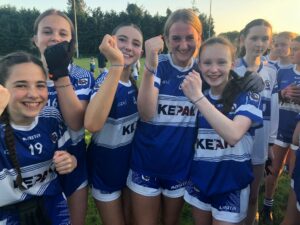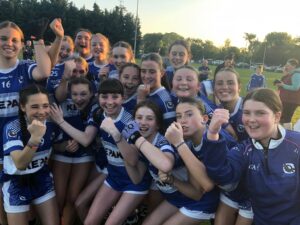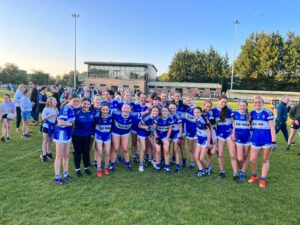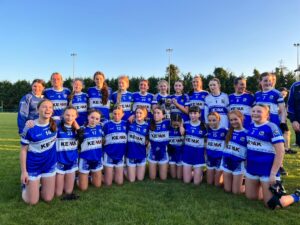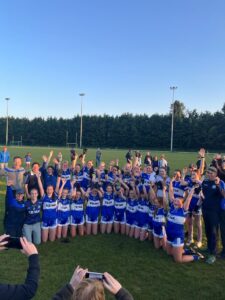 By ruthmfmoore
Sun 18th Jun