After 6 months of hard work and hard selling, Skryne GFC were delighted to announce that we exceeded our target of 7,000 ticket sales in our Horsepower Superdraw. The final total of tickets sold was an astonishing 9,339. Well done to the committee, the sellers and all who contributed to such a successful draw. A huge thank you to all who bought tickets and supported the club.
The draw was held in Fox's pub on the Hill of Skryne. It was hosted by Stephen Naughton our MC and overseen by independent draw supervisor, Mary Campbell from Mary Campbell and Company Solicitors in Trim Co. Meath.
Club legend, All-Star, multi-All-Ireland winner and draw ambassador Trevor Giles and Leading Horse Racing Trainer and draw ambassador Gavin Cromwell were both invited onto the stage to draw the winning tickets.
Our Horsepower Superdraw prize winners were
1st Prize – John Deere 6120M Tractor or €100,000 – Joseph Fitzachary, St. Margarets, Co. Dublin
2nd Prize – Gavin Cromwell trained racehorse for 1 season or €10,000 – Oliver Prunty, Convoy, Co. Donegal
3rd Prize – Center Parcs Holiday Voucher to the value of €3,000  Mary Byrne, Ardcath, Co. Meath
4th Prize – €1,000 – Sé Pardy, Online ticket
Congratulations to all our winners!! The winning ticket for our John Deere 6120M tractor was sold by Ruth Moore at Brady's Service Station in Coolquay where we had spent several weekends showcasing the tractor.
Below is a picture of the winner of our first prize, the John Deere 6120M tractor supplied by Meath Farm Machinery or €100,000 in cash. (l-r) Christy O'Connor(Draw Chairperson), Joseph Fitzachary(Winner of the draw), Johnny Burke(Club Chairperson) and Ruth Moore(Seller of the winning ticket)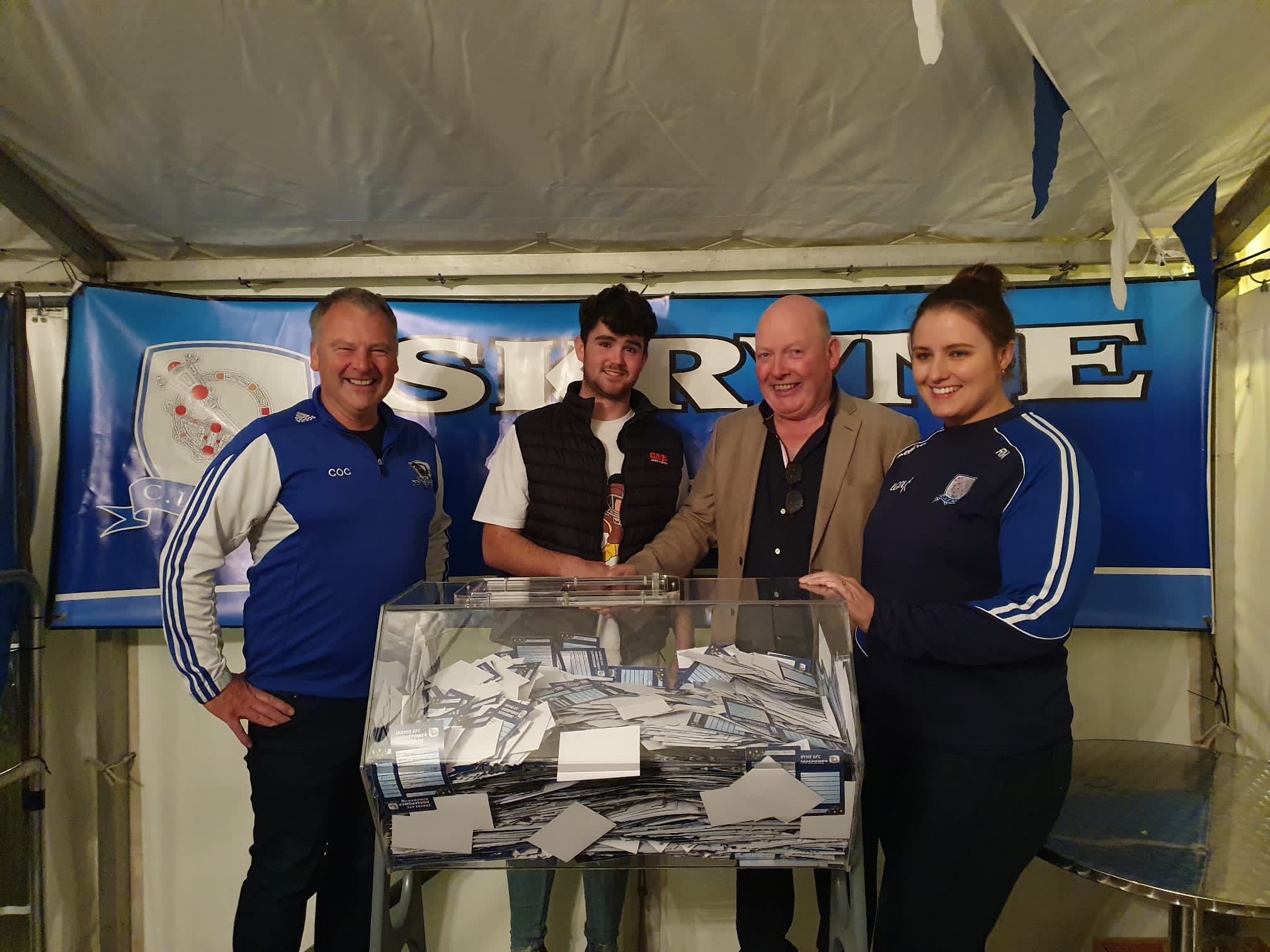 Skryne GFC will be donating €10,000 of the proceeds of the draw to our charity partners Laura Lynn, Jigsaw and the Irish Injured Jockey's Fund
A big thank you to the following list of supporters of our Horsepower Superdraw
Meath Farm Machinery
Gavin Cromwell Racing
A & J Print
Eurofarm Foods
Fox's Pub
MG Audio
Irish Distillers
Club & County
Kepak
St. Kevin's GAA
Farmers Journal
Brady's Service Station, Coolquay
LMFM
Knightsbrook Hotel
Finnegan's Farm
Swans of Skryne
Tayto Park
Fairyhouse Racecourse
Castlemartyr Resort
O'Connells Pub
Agriland
Waikato
Below is a picture of the Horsepower Superdraw Committee
(Standing l-r) Christy O'Connor (Draw Chairperson), Ciarán Lenehan, Pauline McManus, Gavin Cromwell(Draw Ambassador), Ross Phillips, Johnny Burke(Club Chairperson), Ruth Moore, Gina Doherty, Mike Foley, Simon Fay. (Seated l-r) Trevor Giles(Draw Ambassador), Stephen Naughton, Rowan Dardis. Missing from the photo Nicola O'Reilly and Kevin O'Rourke