Skryne division 2 ladies seem to have found their groove on Wednesday night:
Skryne ladies played boardsmill at home on Wednesday in their second match of the league and to say the outcome was much different to their first game would be an understatement.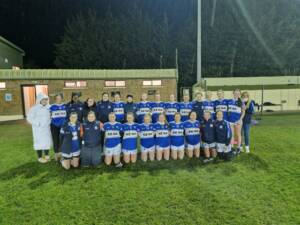 Even with horrific weather conditions they started the match strong and were able to work up their score at a steady pace while those in defense were able to keep boardsmills scoring to a minimum. The first half ended with Skryne in front with the score being 0-8 to 0-3.
In the second half skryne, never seemed to lose their rhythm and were able to keep the scoreboard ticking over . They then extended the gap with two fine goals. The girls in defense were on their A-game the final score was 2-13 to 0-6 which was a great result for Skryne.