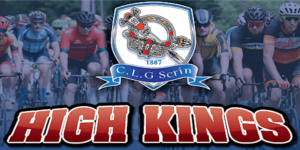 The Skryne GFC High Kings Cycle Challenge takes place Sunday 1st October  2023.
Sign on starts from 9.00am at Skryne GFC clubhouse for the 100km and 50km
100km will start at 10am sharp with 50km soon after.
The day will include:
• BBQ when you arrive back at Skryne GFC clubhouse.
• Changing Facilities with hot Showers for both male and female.
• Parking available throughout the day.
• Food stop on the Hill of Tara half way around for the 100km and 50km.
The 100km route is a fantastic challenge for both beginners and seasoned cyclists, with a mixture of some nice short steady climbs and rolling landscape.
Taking in views of Newgrange, The Hill of Tara and The hill of Skryne.
The 50km route doesn't stray too far from the start point, and is perfect for beginners and those who prefer a more leisurely cycle for the morning.
100km Route here:
https://www.strava.com/routes/930887
50km Route here:
https://www.strava.com/routes/3008010002079457014
We hope to see you on the day!
PRICE:
Adults €20 Early Bird Online Registration
On the morning for €25 at the clubhouse
Get your tickets at the link below:
Register here for the High Kings Cycle
Detailed Maps will be available on the Morning in Skryne GFC and, route will covered in full at the Briefing.
Terms and Conditions
(1) This event is not a race.
(2) All participants are responsible for their own safety. By taking part in this event it is understood that this cycle takes place on public roads and the participants understands the hazards of cycling on public roads
(3) All participants must obey the rules of the road during the event. Participants must obey the instructions of Gardaí and event marshals at all times.
(4) All Participants must wear protective helmets while riding in the event. No Helmet, No Ride. High Visibility Clothing is advised
(5) The organisers accept no responsibility for any accidents or injury to participants during the event.
(6) The event is not a fun run. Each participant is responsible for determining their fitness to participate in the event and suitibility of their bicycle for the event.
(7) Participants must display their sticker provided at all times to gain access to checkpoints and other services provided by the organisers of the event.
(8) In the event of adverse weather conditions the organisers have the right to alter the route on the day of the event.
Entry fees are non refundable.
(9) All participants must register and sign disclaimer on the day.
By Skryne GFC Admin
Fri 8th Sep